INFLATION/DEFLATION WATCH
U.S. Wholesale Prices Rise More Than Forecast on Fuel, Food
The producer-price index rose 0.5 percent after falling 0.7 percent in April, which was the biggest drop in more than three years, according to a Labor Department report released today in Washington. So-called core wholesale inflation, which excludes often-volatile food and energy prices, increased 0.1 percent.


MEANWHILE IN EUROPE
The Netherlands is bracing for a new round of belt-tightening despite a growing public backlash against austerity, barely a year after similar bind caused the government to collapse.

The coalition parties are set to begin negotiations next week on how to cut the budget deficit by €6 billion, equal to $8 billion or 1% of the country's gross domestic product, next year to satisfy European Union budget rules. (…)

With the euro-zone mired in its longest recession in decades, even the so-called core Northern countries are increasingly feeling the pain.

The Belgian government needs to find €500 million ($670 million) in budget savings this year to be sure of avoiding EU sanctions, Prime Minister Elio Di Rupo said Friday in Brussels. The country has already made budget savings of around €18 billion—equivalent to about 5% of annual economic output—since Mr. Di Rupo's six-party coalition took office in December 2011.

Finnish Prime Minister Jyrki Katainen said on Tuesday that he could not rule out additional austerity measures to keep the budget under control if the economy didn't turn around soon. (…)
French retail sales continue to be weak. In May retail sales volumes fell by 0.2% month-to-month with a rise of 5.1% in food sales blunting a drop of 2.8% in nonfood sales. Nonfood sales have fallen for four months in a row.
The overall retail sales volume change over the past 12-months ranks in the lower 17th percentile of all Yr/Yr sales changes back to 1994 (see 'rank % Y/Y' in the table). Food sales are relatively stronger, standing in the 37th percentile of their historic queue with nonfood sales in the 15.8 percentile of their queue. Of the categories in the table, textiles, footwear and furniture are the relative weakest according to their queue standings. (…)

Total retail volume has declined 1.1% after 5 months, –2.6% annualized. Food sales reportedly rose 4.5% (+10.8% a.r.) while non-food sales volume has cratered 3.2% after 5 months, a 7.7% annualized rate. New car sales, meanwhile, jumped 9.0% (+21.6% a.r.). I have a hard time believing these breakdowns but the overall picture fits with Markit's retail PMI:
Nominal hourly labor costs rose 3.9 percent in Germany in the first quarter, the EU's statistics office Eurostat said on Monday, faster than the overall euro zone rate of 1.6 percent. It was Germany's biggest jump since the first three months of 2009. (…)

Spanish labor costs fell 0.7 percent in the first quarter, while exports rose 3 percent in the same period, Eurostat said.
From The Economist:

THE gloom in Spain is almost palpable. (…) The numbers are grim. The economy is in deep recession. In the first three months of the year GDP shrank for a seventh quarter in a row. The public finances remain stretched, with the budget deficit at 7% of GDP. Bond yields have fallen, but the credit crunch for small firms is worsening. Corporate bankruptcies are running at ten times pre-crisis levels. And unemployment is at a record 27% (see article).
Yet,

Unlike France, it has made big structural reforms. Unlike Italy, it has a strong government that expects to last until the next election in late 2015. (…)

The government's programme of restructuring and reform has also started to produce results. As many as 38 financial institutions have been merged, mainly local cajas brought down by property lending. The remaining banks have been recapitalised and some €50 billion of their worst assets transferred to a bad bank, Sareb. Provisioning against bad debts has risen sharply. Unlike many other euro-crisis countries, the public sector is shrinking: 375,000 civil-service jobs have gone.

The real economy is also showing signs of improvement. Measured by unit labour costs, Spain has done more than most to regain competitiveness. The external current account has switched from a deficit of almost 10% of GDP in 2008 to a surplus, and not only because of import compression. In 2012 exports rose faster than in any other EU country. Reforms last year made it easier to fire workers, so industry is readier to hire again. This new labour-market flexibility is one reason why many car makers are moving production from other EU countries to Spain.

Even so, three big problems could undo this limited progress. One is the credit crunch. Despite lower bond yields, credit for small and medium-sized enterprises remains scarce and expensive compared with northern Europe. (…)

The second problem is reform fatigue. Spaniards have accepted changes, including wage cuts, to restore lost competitiveness. But more is needed: welfare reforms, a lower minimum wage in some regions, encouraging mini-jobs and part-time work and reducing the burden of pensions. It is not clear that Mr Rajoy's government has the guts to push such reforms through. (…)

Above all is the third problem, insufficient demand and a lack of sources of growth. With public spending, consumption and investment constrained, the government is relying on rising exports. Yet total exports are less than a third of GDP and almost two-thirds go to the recession-hit euro zone. (…)
In another positive sign, euro zone exports to the rest of the world grew 9 percent in April while imports only rose 1 percent, giving the 17 countries sharing the single currency a trade surplus of 14.9 billion euros ($20 billion).
However, April seasonally adjusted exports declined 0.8% MoM and while exports have grown since December 2012, they are merely back to their August 2012 level.
CURRENCY WARS
Non-oil domestic exports slid 4.6 percent from a year earlier, after falling 1 percent in April, the trade promotion agency said in a statement today. Shipments of electronics dropped 13.2 percent from a year ago, extending the slump to a 10th month.
India Holds Rates as Rupee Drop Risks Fueling Inflation
Vietnam's Central Bank Says It Intervened to Slow Dong Decline

The real, the worst-performing emerging-market currency in the past three months, probably will weaken to about 2.40 from 2.15 per U.S. dollar, bolstering Brazil's competitiveness, said Jose Carlos Martins, Vale's executive director for ferrous and strategy. China's iron-ore and steel demand growth is set to slow to about 5 percent from 10 percent in the first five months of the year, he said.

"The Brazilian currency will devaluate further," Martins, 63, said in a June 14 interview at the company's Rio de Janeiro headquarters. "The slowdown in China is negative, devaluation is positive because not only our costs in dollars will be reduced but also investments will be lower."
BEGINNING OF THE END?
(…) Overall, foreign investors sold a net $70 billion in Treasury securities, cutting their total portfolio of U.S. government debt by roughly 1.2%. Investors have long watched the monthly Treasury capital-flows report for insight into the global appetite for U.S. debt, as foreign demand has been perceived as a key factor in financing U.S. spending.
Treasury auctions this week drew lower-than-average demand for the third consecutive month. (ISI, with chart below)

EARNINGS WATCH
Warning: aggregators have different ways to compile data. I use S&P as the official "data keeper".
From S&P:

The second quarter comes to an end in a little more than two weeks, and a number of companies have already started previewing what quarterly numbers will look like. The advance peak isn't pretty. Of the 110 companies that have provided forecasts, according to S&P Capital IQ, 79 have been "negative," with 18 positive and 13 in-line. That works out to a ratio of 4.4 negative-to-positive, well above the 10-year average of 2.1.

Profit growth for the second-quarter is seen around 3.5%, according to S&P. Sales growth is seen contracting 1%, according to the firm. "If you are hoping for 3-4% revenue growth – the kind that allows profit margins to expand – you'll have to wait until 2014, at least according to Wall Street analysts," wrote Nicholas Colas, the chief market strategist at ConvergEx Group.
From Factset:

Overall, 86 companies have issued negative EPS guidance for Q2 2013, while 21 companies have issued positive EPS guidance. Thus, 80% of the companies in the index that have issued EPS guidance have issued negative guidance. This percentage is well above the 5-year average of 62%.

If the final earnings growth rate for the quarter is 1.1%, it will mark the third consecutive quarter of growth for the index. However, only four of the ten sectors are projected to report an earnings increase for the quarter, led by the Financials (17.5%) and Telecom Services (10.1%) sectors. On the other hand, the Information Technology (-6.3%), Materials (-4.5%), and Health Care (-3.9%) sectors are predicted to see the lowest earnings growth. The estimated revenue growth rate for the index for Q2 is 1.3%, down from an estimate of 2.7% at the start of the quarter.
ISI sees hope in an improving First Call earnings revision trend, even though it remains below 50 for now. The black lines are ISI's way to show how things seemingly got better in the second half on each of the last 3 years. The red line is my way to show that positive revisions are fewer and fewer.
DRIVING BLIND (continued)
John Mauldin's recent Thoughts from the Frontline letter should be read by everybody who relies on economists to make any kind of decisions in their life. As the Fed is preparing to alter its monetary stance, John's letter helps understand the recent high level of volatility in financial markets. Everybody is driving blind just as a major turn approaches. My recent note warned that the Fed was currently Driving Blind but John says that the Fed is actually truly blind, now and always before and in the future!
Dozens of studies show that economists are completely incapable of forecasting recessions. But forget forecasting. What's worse is that they fail miserably even at understanding where the economy is today. (…)

In plain English, economists don't have a clue about the future.

If you think the Fed or government agencies know what is going on with the economy, you're mistaken. Government economists are about as useful as a screen door on a submarine. Their mistakes and failures are so spectacular you couldn't make them up if you tried. Yet now, in a post-crisis world, we trust the same people to know where the economy is, where it is going, and how to manage monetary policy.

Central banks say they will know the right time to end the current policies of quantitative easing and financial repression and when to shrink the bloated monetary base. However, given their record at forecasting, how will they know? The Federal Reserve not only failed to predict the recessions of 1990, 2001, and 2007, it also didn't even recognize them after they had already begun. Financial crises frequently happen because central banks cut interest rates too late and hike rates too soon.

Trusting central bankers now is a big bet that (1) they'll know what to do, (2) they'll know when to do it. Sadly, given the track record, that is not a good wager. Unfortunately, the problem is not that economists are simply bad at what they do; it's that they're really, really bad. They're so bad that it cannot even be a matter of chance. (…)

If economists were merely wrong at betting on horse races, their failure would be amusing. But central bankers have the power to create money, change interest rates, and affect our lives in multiple ways – and they don't have a clue.
And don't think for a moment that private economists are any more useful:
In December 2007 a Businessweek survey showed that every single one of 54 economists surveyed actually predicted that the US economy would avoid a recession in 2008. The experts were unanimous that unemployment wouldn't be a problem, leading to the consensus conclusion that 2008 would be a good year.

As Nate Silver has pointed out, the worst thing about the bad predictions isn't that they were awful; it's that the economists in question were so confident in them. Now, this was a very bad forecast: far from growing by 2.4%, GDP actually shrank by 3.3% once the financial crisis hit. Yet these economists assigned only a 3% chance to the economy's shrinking by any margin at all over the whole of 2008, and they gave it only about a 1-in-500 chance of shrinking by 2 percent, as it did.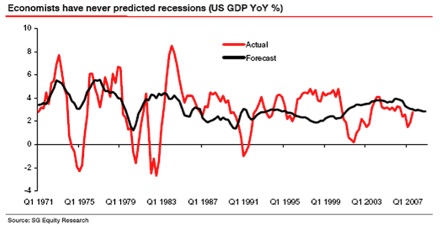 In truth, John goes too far considering that he is, in fact, one who uses economists, including his good friend Nouriel Roubini, the most successful useless economist around, extensively in his publications, conferences and other venues offered by Mauldin Economics. No doubt he must see the irony…
Another Mauldin friend is Joan McCullough, the deliciously snappy macro strategist at East Shore Partners. She is also not fond of economists, particularly the IMF crowd (via John Mauldin).
How fast was the turnip truck goin' when the IMF fell off the back?

Right. So take the visual and allow it to linger while we make an attempt to recap this latest load of baloney from the organization which is #2 on my list of "agencies to be disbanded immediately" … right after the IRS.

I often wonder why I have long held the IMF in such low regard. Besides the obvious, there is likely a deep-seated, psychological resentment here, too. Occasioned by the fact that for a period of years, they issued a paycheck to one Timothy Geithner. On which he paid no income tax until caught. After which they let him run Treasury which oversees the IRS.
Which put me in a very bad frame of mind. (…)
Here's how Joan qualifies the recent IMF report titled "The Concluding Statement of the 2013 Article IV Mission to The United States of America". As a bonus, we get, in a single paragraph, a complete account of the State of the Union:
Did you ever read such high-falutin' insanity in your life? As if these
massive issues can be resolved effortless, with the wave of a wand or the push of a button. No problem. Like I said, it's a freakin' term paper.

So there you have it. Please note: There is not a single mention of the fact that the US has record debt and record unemployment, food stamps, disability and Medicaid enrolment. With almost half of us paying no federal income tax whatsoever. That Obamacare is s driving health insurance premiums wild. That after almost 5 years of ZIRP and 3 rounds of QE and a wildly bloated central bank balance sheet, that we
are lucky to get 2% growth. That the quality of jobs being created is piss poor and that wages are stagnant. And while CPI inflation is tame, the cost of living which is not reflected therein, is anything but. And that we also have up to 20 million illegals in this country whose welcome hangs in the balance. Right now. With talk that the State Department is considering taking Syrian refugees as well. Once we determine which ones are Al Qaeda sympathizers and which are not. And most of all, they never addressed this reality: that the FED has painted itself into a corner. And that any suggestion that the FED should carefully plan an exit while being careful not to upset the applecart. Is just plain disingenuous. Either that, or there's been an en masse psychotic break at the IMF headquarters. Your call.

So if you wanna' claim that they rolled stocks over because of this worthless bit of writing from a bunch of out-of-touch bureaucrats, be my guest.
This is why I write News-To-Use and use the Rule of 20 to measure the attractiveness of equities: no forecasts. "Simply" objectively measure and monitor the equity risk/reward ratio using trailing profits and inflation and meticulously follow and assess, in as an unbiased way as possible, the trends and momentum of some of the main economic drivers. While doing that, I try to understand conventional wisdom and how it is likely to behave (i.e. veer) in the near future.
Doing that, I read much media and broker crap, but also numerous great pieces from great minds, economists or not.