INFLATION WATCH
The consumer-price index rose a seasonally adjusted 0.3% in December from the prior month, the Labor Department said Thursday. Core prices, which strip out volatile food and energy costs, were up a mild 0.1%.

Compared with a year earlier, overall consumer prices increased 1.5% and core prices were up 1.7%. Energy prices led the monthly gain, with gasoline prices rising 3.1%. (…)

A separate report Thursday showed inflation-adjusted average weekly earnings fell 0.5% in December from the prior month.

Real average weekly earnings are unchanged from a year earlier, giving many consumers little additional spending power.
U.S. wholesale prices climbed in December after falling for most of the fall, but broader trends suggest inflation pressures remain subdued.

The producer-price index, reflecting how much firms pay for everything from paper to trucks, rose a seasonally adjusted 0.4% from November, led by a jump in energy costs, the Labor Department said Wednesday. That followed two consecutive months of declines and marked the biggest increase since June.

Core producer prices, which strip out volatile food and energy costs, increased 0.3%. But almost half of that rise was due to a surge in tobacco prices, which a Labor Department economist attributed to a routine price adjustment by manufacturers that occurs several times a year.
Some regions of the U.S. are confronting labor shortages in construction and other high-skill fields, according to the Federal Reserve's 'beige book' survey of economic conditions.

(…) The Dallas Fed district reported "acute labor shortages" for auditors, engineers, truck drivers and construction workers in late November and December.

The Cleveland Fed said hiring was "sluggish" for most industries, but construction firms were hiring. "Builders reported a scarcity of high-skilled trade workers," according to the report. "As a result, there is upward pressure on wages, and subcontractors are demanding and getting higher rates." (…)

"The labor markets showed signs of tightening," the Minneapolis district reported, with 30% of businesses saying they expect to hire more full-time workers in 2014 versus 18% who expect to have fewer full-time employees.

In the Richmond district, there were "numerous reports of strong labor demand," though the report also said few businesses offered permanent jobs to seasonal workers and there was high turnover among low-skill workers.

In all, two-thirds of districts reported "small to moderate" increases in hiring, according to the report, and many companies were optimistic as 2014 began. In the New York district, most companies said they kept staffing flat as 2013 came to a close, but "substantially more businesses plan to expand than reduce their workforces in 2014." (…)

Most areas reported improving real-estate markets, with residential sales, prices and construction on the rise. Two-thirds of districts said commercial property sales and leasing were up, too.

Prices were described as "stable" in about half the districts and most of the rest reported "small increases," with a couple exceptions. (…)

Eight of the 12 districts reported "small to moderate" increases in wages.

While spending on tourism and leisure was reportedly "mixed" across the country, the manufacturing sector saw "steady growth" and steady employment.

"A manufacturer in the Dallas district said that for the first time since before the recession, his firm had too many jobs to bid on," according to the report.

No major changes in bank lending volume were reported, though six districts reported "slight to moderate growth," three saw no change and one— New York—saw a "moderate decline in loan volume." (…)
Robots vs humans (BAML)
Eurostat said consumer prices rose 0.3% from November, and were up 0.8% from December 2012. That marks a decline in the annual rate of inflation from 0.9% in November, and brings it further below the rate of close to 2.0% targeted by the ECB.

Eurostat also confirmed that the "core" rate of inflation—which strips out volatile items such as food and energy—fell to 0.7%, its lowest level since records began in 2001.
European car sales fell for the sixth straight year in 2013, despite a pickup in registrations in the final months of the year that sparked hope of a broader recovery in the region.

The European Automobile Manufacturers' Association, known as ACEA, said Thursday that 11.9 million new cars were registered in the European Union last year, a decline of 1.7% compared with the previous year.

A moderate recovery of car sales in the second half of the year gathered pace in December, according to the ACEA data, but wasn't strong enough to pull the industry into positive territory for the year. In December, new car registrations rose 13% to 906,294 vehicles—the strongest rate in the month of December since 2009 but still one of the lowest showings to date, ACEA said. Registrations also grew in the fourth quarter. (…)
The emerging-market economy 'can speak of stagflation,' the Bank of Russia's first deputy head tells an economic conference.

(…) Russia's economic growth has been slowing amid dwindling investment, hefty capital outflows, and weak demand and low prices for its commodities exports. Officials repeatedly downgraded forecasts for economic growth last year to 1.4%, a far cry from the average annual pace of about 7% during the early 2000s and well below the medium-term target of 5% set by President Vladimir Putin. Consumer prices grew 6.5% last year, above the 5%-to-6% range the central bank was targeting.

The government acknowledged last year that the slowdown was a result of domestic economic vulnerabilities, such as low labor productivity, and not just a weak global economy, as it had earlier asserted. The economy ministry slashed its growth forecasts for the next two decades. It also warned that the oil-fueled growth that has been a foundation of Mr. Putin's rule is over and that there is nothing ready to take its place, given the country's poor investment climate and aging infrastructure.

In a sign of Russia's waning appeal to foreign investors, the European Bank for Reconstruction and Development said Wednesday that its investments in Russia fell sharply last year to €1.8 billion ($2.5 billion) from €2.6 billion in 2012. (…)
Data hint at greater corporate capital investment plans
(…) Orders of new machinery by businesses, considered a leading indicator of overall capital investment, surged to a five-year high in November, rising 9.3 per cent to Y882.6bn. The year-on-year increase, which handily beat analysts' expectations, was the second in two months and the fifth biggest on record. (…)
World's most aggressive tightening cycle continues
The central bank raised the Selic rate by 50 basis points to 10.5 per cent on Wednesday, extending the world's most aggressive tightening cycle. It has raised interest rates by 325 basis points over the past nine months. (…)

At Brazil's previous interest rate meeting, the central bank changed its statement for the first time in months, signalling the tightening cycle would soon be over.

However, a surge in prices in December took the central bank by surprise, likely forcing a revision to the country's monetary policy strategy, economists say.

Data from the national statistics agency last week showed consumer prices jumped 0.92 per cent in December, the most since April 2003.

The annual inflation rate for the month – 5.91 per cent – also came in above estimates from all analysts in a Bloomberg survey and far above the country's official 4.5 per cent target. (…)
ITALY IN 3 CHARTS (From FT)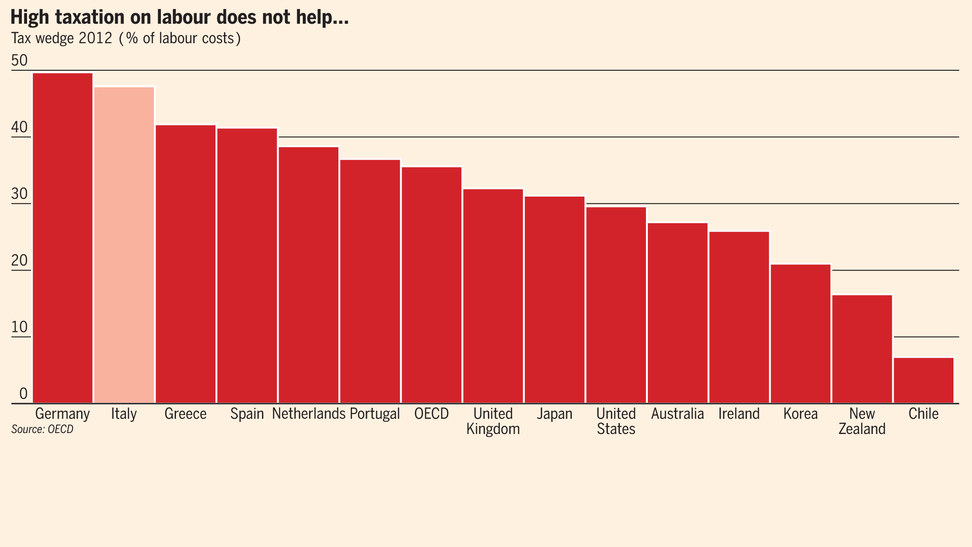 SENTIMENT WATCH
Actually, the appropriate headline should be "The Bulls…ers Are Back"
The stock market's slow start to the year lasted all of two weeks, as back-to-back rallies pushed the S&P 500 back up to a record high.

(…) In a note to clients, Craig Johnson, Piper Jaffray's technical strategist, said the market's primary trend will remain higher in the coming months. He predicts the S&P 500 will jump another 8% and hit 2000 before suffering through a nasty correction around the middle of the year that could take the index back to the 1600-to-1650 range.

Such a drop from his projected peak would take the S&P 500 down as much as 20%, a drop that hasn't occurred since the summer of 2011.

But have no fear, stock-market bulls. He then sees stocks staging a sharp rally through the end of the year, lifting the S&P 500 to 2100 and capping a 14% gain for the year. "A hop, a drop and a pop in 2014" is how Mr. Johnson predicts it will play out, as rising bond yields will prompt more cash to flow out of bonds and into stocks throughout the year.

"We believe that 2014 will be a good year, but not a great year like 2013," he said. (…)
End of loose money spells change in market's inner workings
(…) Whether 2014 is a profitable year will come down to investors relying less on endless liquidity from the Federal Reserve that, like a high tide, has floated all equity boats. Instead they must focus on specific sectors and opportunities such as likely merger and acquisition targets in the coming months. (…)
Yeah! Sure! Let's all do that. Thank you FT.