The economy grew at a faster pace in the third quarter than first thought, but underlying figures suggest slower growth in the year's final months.

Gross domestic product, the broadest measure of goods and services produced in the economy, grew at a seasonally adjusted annual rate of 3.6% from July through September, the Commerce Department said Thursday. The measure was revised up from an earlier 2.8% estimate and marks the strongest growth pace since the first quarter of 2012.

The upgrade was nearly entirely the result of businesses boosting their stockpiles. The change in private inventories, as measured in dollars, was the largest in 15 years after adjusting for inflation.

As a result, inventories are likely to build more slowly or decline in the current quarter, slowing overall economic growth. The forecasting firm Macroeconomic Advisers expects the economy to advance at a 1.4% rate in the fourth quarter. Other economists say the pace could fall below 1%.

Real final sales—GDP excluding the change in inventories—rose just 1.9%, a slowdown from the second quarter. Consumer spending advanced only 1.4%, the weakest gain since the recession ended.
This huge inventory bulge may explain the bullish manufacturing PMIs of the past few months as Lance Roberts writes today:

I posted on the apparent inventory overhang Wednesday, particularly at car manufacturers but also in retail stores as can be easily seen at any mall near you. Right on cue:
Honda is offering its U.S. dealers big cash incentives to pump up their new-car sales in the final month of the year after its November U.S. sales fell slightly even as the overall market rose nearly 9%.

Honda told dealers on Wednesday it would pay bonuses of $3,000 for every vehicle they sell above their December 2012 sales total, according to dealers briefed by the company. Retailers can use the extra money to drop prices on new vehicles or finance other incentives to persuade customers to buy.

Auto makers often offer similar bonuses to their dealers, but Honda's new program is noteworthy because the Japanese company typically offers much less in sales incentives than its competitors.

Honda's program is being rolled out amid signs that other major auto makers in the U.S. also are sweetening rebates and other sales promotions.
Lance Roberts reminds us of the importance of final demand which is at really uncomfortably low levels:
Real final sales in the economy peaked in early 2012 and has since been on the decline despite the ongoing interventions of the Federal Reserve. The lack of transmission into the real economy is clearly evident.

Furthermore, as shown in the next chart, consumer spending has continued to weaken since its peak in 2010. The last couple of quarters has shown a noticeable decline is services related spending as budgets tighten due to lack of income growth as disposable personal incomes declined in the latest report. The slowdown in dividends, wages and salaries were partially offset by a rise in social welfare and government benefits. Unfortunately, rising incomes derived from government benefits does not lead to stronger economic growth.

The latest GDP data are for Q3. The last and most important quarter of the year is off to a slow pace:
The nine retailers tracked by Thomson Reuters recorded a 1.2% increase in November same-store sales, or sales at stores open at least a year, versus the 2.3% consensus estimate and the 5.1% increase posted a year ago.

The 1.2% result is the weakest result since September 2009's 0.7% result. Off-price retailers continue to outperform the sector, suggesting shoppers still want designer brand names for less. Companies that missed expectations blamed the shorter holiday season, very competitive and difficult environment.
Hopefully, this will help:
The U.S. Gulf Coast—home to the world's largest concentration of petroleum refineries—is suddenly awash in crude oil. So much high-quality oil is flowing into the area that the price there has dropped sharply.

So much high-quality U.S. oil is flowing into the area that the price of crude there has dropped sharply in the past few weeks and is no longer in sync with global prices.

In fact, some experts believe a U.S. oil glut is coming. "We are moving toward a significant amount of domestic oversupply of light crude," says Ed Morse, head of commodities research at Citigroup.

And the glut on the Gulf Coast is likely to grow. In January, the southern leg ofTransCanada Corp.'s Keystone pipeline is set to begin transporting 700,000 barrels a day of crude from the storage tanks of Cushing, Okla., to Port Arthur, Texas.

The ramifications could be far-reaching, including lower gasoline prices for American drivers, rising profits for refineries and growing political pressure on Congress to allow oil exports. But the glut could also hurt the very companies that helped create it: independent drillers, who have reversed years of declining U.S. energy production but face lower prices for their product.

Globally, the surge in supply and tumbling prices are attracting notice. On Monday, a delegate to the Organization of the Petroleum Exporting Countries said Saudi Arabia is selling oil to the U.S. for less than it would fetch in Asia. Nonetheless, the Saudis have continued to ship crude to refineries they own in Texas and Louisiana, according to U.S. import data, further driving down prices.

The strongest indication of a glut is the falling price of "Louisiana Light Sweet," a blend purchased by refiners along the Gulf Coast. Typically, a barrel of Louisiana Light Sweet costs a dollar or two more than a barrel of crude in Europe.

But on Wednesday, a barrel of Louisiana crude fetched $9.46 less than a barrel of comparable-quality crude in England. (…)

Some industry officials argue that U.S. light crude will simply displace more "heavy" imported oil. But many Gulf Coast refineries are set up to turn the more viscous crude into diesel fuel, and converting their facilities to process additional light oil wouldn't be easy. (…)

San Antonio-based Valero, the nation's largest oil refiner, all but stopped importing lightweight crude to the Gulf Coast and Memphis a year ago because there was so much U.S. product available, says spokesman Bill Day. It is also shipping crude from Texas and Louisiana all the way up to its refinery in Quebec because the price of Gulf Coast oil is so low. (…)
How about feeding New York City where prices are 17% higher than in Houston, Tx.? (Obama focuses agenda on relieving economic inequality)
But this can't help housing, even with the Fed trying as hard as it can: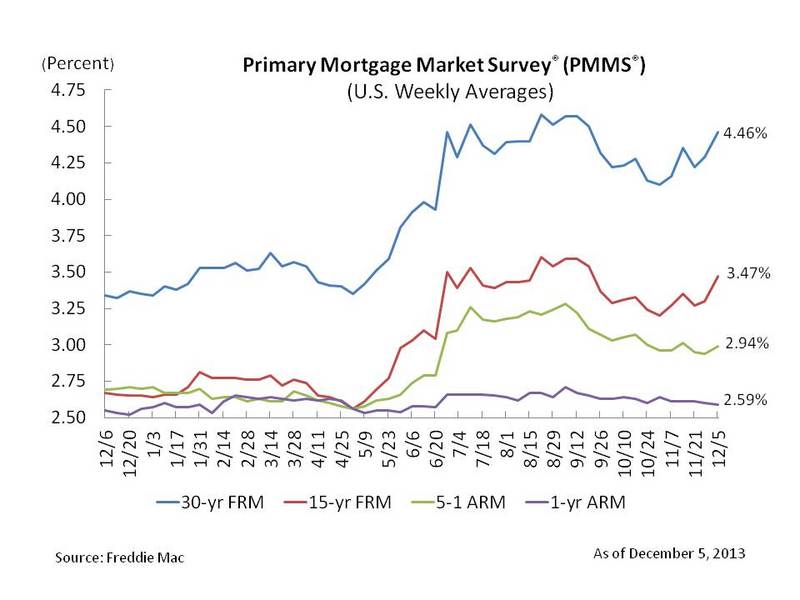 Neither can this:

While higher mortgage rates have moderated U.S. home sales recently, the potential supply of buyers has also taken a surprising step back. Annual household formations are running well below one-half million recently, compared with a three-decade norm of 1.1 million. This is surprising given that the echo boomers are old enough to leave the familial home by now—unless they simply can't find work and feel compelled to stay there. (BMO Capital)
TOUGH TO BE CONSTRUCTIVE ABOUT EUROPE
However you look at it, the pattern is the same: strong and stronger Germany (20% of EU GDP, 16% of EU population), weak and weaker France (16%, 13%) and Italy (12%, 12%).
German construction sector growth helps drive economic expansion The construction industry looks set to provide a boost to the German economy in the fourth quarter, according to Markit's PMI data. The construction PMI – which measures the overall level of business activity in the sector – registered expansion for the seventh successive month in November. Although the headline index dipped slightly from 52.6 in October to 52.1, the average reading in the fourth quarter so far is consistent with the sector's output rising by some 7% compared to the third quarter.
France: Construction sector downturn deepens The downturn in France's construction sector gathered pace in November. Activity and new orders both fell at sharper rates, while the pace of job shedding quickened. Confidence regarding the year-ahead outlook meanwhile plunged to the lowest in 2013 to date.
Italian construction sector set to post contraction in final quarter Italy's construction sector looks set to remain a drag on GDP in the final quarter of the year, with businesses in the industry having recorded further reductions in total activity levels in both October and November. The latest contraction was the slowest in five months, but nevertheless still solid overall and broad based across the housing, commercial and civil engineering sectors.
German Factory Orders Decline in Sign of Uneven Recovery
Orders, adjusted for seasonal swings and inflation, slid 2.2 percent from September, when they rose a revised 3.1 percent, the Economy Ministry in Berlin said today. Economists forecast a decline of 1 percent, according to the median of 40 estimates in a Bloomberg survey. Orders advanced 1.9 percent from a year ago when adjusted for the number of working days.

Foreign orders fell 2.3 percent in October, while those from within the country dropped 2 percent, today's report showed. Demand from the euro area declined 1.3 percent.
EURO BANKS NEED MORE WORKOUTS:
(Morgan Stanley)
Thank You All
I have not been able to personally and directly thank all of you who reacted to my help demand last Tuesday. While it was on a rather minor thing, I am relieved to see that if I ever lost my mind, my readers from across the world will surely help.
Your kind words were also nice to read. I am happy to see I can help some, me being first in line, remain focused, objective and disciplined.
I wish I had advised you to buy bitcoins early this year but you just paid me handsomely with your buddycoins!
Other harmless ways readers can contribute to this absolutely free blog is by clicking on the ads on the sidebar from time to time just to encourage my advertisers to stay with me and/or to use the Amazon search box on the sidebar to reach the Amazon web site before ordering. This will earn News-To-Use a small referral fee. All moneys received are reinvested into research material, less and less of which if free.