Euro-Zone Recession Drags On Economic output contracted in the euro zone for a sixth-straight quarter, as a slight recovery in Germany failed to offset recessions in France and Italy.
Gross domestic product fell 0.2% in the first quarter from the final three months of 2012, according to a report Wednesday from the European Union's statistics office Eurostat. In annualized terms, which is how the U.S. and some other countries report output, GDP fell 0.9%.

GDP fell 2.3%, in annualized terms, in the fourth quarter. The current downturn in the euro zone has now stretched for longer than the 2008-2009 recession, though the cumulative 1.5% drop in output since the summer of 2011 isn't yet as severe as the nearly 6% that was sliced off of GDP four years ago. (…)

French GDP fell 0.7% in annualized terms from the fourth quarter due to drops in consumer spending and exports, its second-straight contraction.
(Chart from Bloomberg via Zerohedge)
The FT adds:
Italy, the bloc's third-largest economy, saw GDP shrink 0.5 per cent in the first quarter, after a fall of 0.9 per cent in the fourth quarter, according to its national statistics office. (…)
Germany, by contrast, managed to return to growth, but only barely. First-quarter GDP grew 0.1 per cent, up from a downwardly revised contraction of 0.7 per cent in the fourth quarter of last year, according to a preliminary estimate by the Federal Statistics Office.

Dutch GDP shrank 0.1 per cent and Spain has already reported a 0.5 per cent contraction in the first quarter.
MEANWHILE IN CHINA
That sighing sound you hear from China

… is strategists everywhere cutting their GDP forecasts.
Li Signals Reluctance on Stimulus to Boost China Growth
"To achieve this year's targets, the room to rely on stimulus policies or government direct investment is not big — we must rely on market mechanisms," Li said in a May 13 speech broadcast to officials around the country, according to a transcript published last night on the central government's website. Relying on government-led investment for growth "is not only difficult to sustain but also creates new problems and risks," he said. (…)

Li's strategy for growth includes a call to unleash private investment by simplifying bureaucratic procedures. "Private investors have money but no place to invest; they want to enter certain areas but they can't find the way," Li said. A company has to spend six to 10 months seeking approvals at 27 government departments to start a new investment project, he said.

The central government will delegate more power to local governments in approving new projects, he said. "Not every matter has to come to Beijing for approval," he said.
Malaysia's Growth Slows to Below 5% First Time in Seven Quarters
Gross domestic product rose 4.1 percent in the three months through March from a year earlier, after a revised 6.5 percent gain in the previous quarter, the central bank said in a statement in Kuala Lumpur today. That is lower than all 22 estimates in a Bloomberg News survey. The monetary authority kept its full-year growth forecast at as much as 6 percent. (…)

Malaysian exports have fallen in four out of six months through March. (…) Net exports of goods and services slumped 36.4 percent in the first quarter from a year earlier, after falling 9.3 percent in the final quarter of 2012, today's report showed.
CHINA ELECTRICITY CONSUMPTION
One of the few reliable Chinese indicators ticks up in April. Total electricity consumption came in at +6.8% YoY in April, from +2.1% in March. This is the best number this year. It is better than the 2012 average of +5.5% and the +4.2% of Q1'13. Yet, the March-April average is but +4.4%, down from the 5.3% Jan-Feb average. The trend remains weak. Northern Trust's view that "Negative economic surprises set the stage for improving sentiment" may just be wishful thinking (see chart below).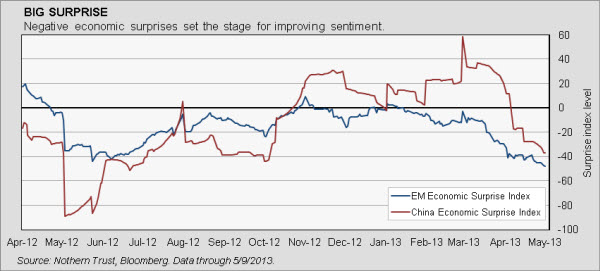 While I'm at it":
EUROZONE INDUSTRIAL PRODUCTION UPTURN?
Yesterday's IP stats from the Eurozone seemed to cheer markets. Markit explains why we should be careful before rejoicing:
Eurozone industrial production rose surprisingly strongly in March, but divergent trends within the region and recent weak business surveys suggests there is scant evidence to suggest that the region is staging any sort of sustained industrial-led recovery.

Official data showed Eurozone industrial production rising 1.0% in March, well above expectations of a mere 0.4% increase, according to a Reuters poll. The March rise in production was the largest since July 2011, but was in part buoyed by a 3.8% surge in energy production. The upturn also masked worryingly strong variations within the single currency area: production surged 1.7% higher in Germany but fell by 0.9% and 0.8% in France and Italy respectively.

The upturn nevertheless pushes eurozone production 0.2% higher over the first quarter as whole, which compares well with a 2.1% decline in the fourth quarter. The data therefore bode well for GDP to show a significantly weaker decline than the 0.6% contraction seen at the end of last year, and even raises the possibility of the recession having ended.

However, any improvement or respite from recession looks likely to be short-lived, as the business surveys have already started signalling a renewed weakening.

Most importantly, Markit's PMI data had indicated a German-led easing in the industrial sector's woes earlier in the year, but have more recently signalled that the downturn deepened again at the start of the second quarter. The PMI surveys are now once again registering contraction in all major eurozone countries. Although some easing in the rate of decline was signalled for Italy, Spain, France and Greece, Germany saw the steepest deterioration for four months in April, contrasting with the growth seen in the region's largest economy earlier in the year.
EUROPE'S BIG HOPE:
(…) "The body language from Brent at the moment suggests a contract ready to take another look at the territory below $100/bbl," they wrote.

However, the language from the Saudis is that $100 is the floor.
Deal will avert strike in country's manufacturing sector
The two-phase wage increase will give workers a 3.4 per cent rise in July this year, followed by a further 2.2 per cent increase in May 2014. The whole agreement will last for 20 months.

If it is followed in the rest of German industry, the agreement should provide some eagerly awaited stimulus to domestic demand in Germany, given the initial rise of more than 3 per cent, compared with an inflation figure of just 1.15 per cent.
HSBC, laying out its next three-year strategy, said it plans to achieve further cost cuts of $2 billion to $3 billion by 2016, including eliminating 14,000 more jobs.
INFLATION DECELERATES JUST ABOUT EVERYWHERE:
Strong U.S. Dollar Keeping Import Prices in Check
The price of goods imported to the U.S. has fallen, on annual basis, in 11 of the past 12 months. While that reflects the declining cost of oil, it also indicates that an increasing value of the dollar is improving America's purchasing power abroad. (…)

The Wall Street Journal Dollar Index, which tracks the dollar against a basket of currencies, has advanced 6% since the start of the year. The rise again the yen is even stronger.

The price of imported goods from Japan fell 0.6% during April, the largest monthly decline since September 2008. The fall in import prices from Japan over the past three months parallels a drop in the Japanese yen relative to the U.S. dollar, the Labor Department said. Japan, the fourth largest trading partner with the U.S., is an important supplier of consumer goods and vehicles.

Prices from China, the second-largest trading partner, are down 0.9% from a year earlier, and import costs from the U.K. have fallen 6.1% during that time.
Actually, most commodity prices are weak, leading to slower inflation across the world (e.g. 1.2% in Germany, 1.1% in Italy, 1.4% in Spain, 4.9% in India…)
EARNINGS WATCH
S&P's latest update to May 9 covers 453 companies: 66.5% beat and 25.4% missed. The late comers must have been shy to disclose their results: of the 48 companies that reported in the last week, only 46% beat and 48% missed. The miss rate has seriously risen as time went by: up to March 28, the miss rate was 21%; the following week, it was 28% and last week it jumped to 48%.
Curiously, earnings estimates for Q1'13 are now $25.96, up $0.18 from the previous week. Estimates for the next 3 quarters edged down but not enough to cut 2013 estimates which are now $109.94, up $0.05 from last week's estimate.
Trailing earnings post Q1 should come in at $98.54, up 1.8% from 3 months ago but still below the $98.69 reached post Q2'12.
Quarterly sales are up only 1.4% YoY in Q1, down from 5.6% in Q4'12.
SHORT SELLERS SCRAMBLE
(…) The combination of wobbly fundamentals and zippy prices has murdered short sellers. If one had bought the 30 most shorted stocks in the S&P 500 at the start of the year, as measured by the proportion of total shares shorted, one would be up 28 per cent, 11 percentage points ahead of the index itself. Much of the outperformance has come from volatile and financially unsteady companies such as First Solar, Netflix, AMD and Best Buy. (…) (FT)
FYI from Bespoke Investment: