Still travelling…almost there…
The Conference Board Leading Economic Index (LEI) for March was released this morning. The index declined 0.1 percent to 94.7 (2004 = 100), following a 0.5 increase in each of the two previous months.



Today's gauge of General Activity remains positive at 1.3 but is fractionally lower than last month's 2.0. However, the 3-month moving average came in at -3.1, the tenth negative reading in eleven months. Since this is a diffusion index, negative readings indicate contraction, positive ones indicate expansion.

The demand for manufactured goods remained weak, with the current new orders index declining from 0.5 to -1.0. The shipments index showed continued improvement, however: The index remained positive and edged six points higher, to 9.1, its highest reading in four months. Nearly 28 percent of the firms reported an increase in shipments; 19 percent reported a decrease. Firms reported a notable decrease in inventories this month: The current inventories index fell from zero to -22.2.
Initial jobless claims, an indication of layoffs, increased by 4,000 to a seasonally adjusted 352,000 in the week ended April 13, the Labor Department said Thursday.

A broader measure of claims continued to climb. The four-week moving average of claims, which smooths out week-to-week volatility, grew by 2,750 to 361,250, the highest level since mid-February.

Meanwhile, claims for the week ending April 6 were revised up to 348,000 from an initially reported 346,000.
Finance minister says group not resistant to Japanese policies
The ECB has flooded the euro zone with cheap loans over the past three years, but large swaths of small and midsize businesses have received precious little of this liquidity.

(…) The root of the problem is that most European companies depend disproportionately on bank lending for their funding—more than 70% of funding comes from loans. This reliance means that the continuing credit crunch might squelch any chance that the euro-zone economy will recover later this year after contracting for five straight quarters. (…)

Total corporate loans fell 2.7% in the euro zone in February compared with a year earlier, the biggest drop in two years, according to Morgan Stanley. They sank 8% in Spain and 4% in Ireland, also in February. (…)

The percentage of Italian companies citing access to financing as their most significant problem is the highest since 2009, according to ECB surveys. (…)

And the ECB's latest survey in January showed banks are tightening lending standards further. Indeed, as banks have slashed branches and centralized the loan-application process, it has become more difficult for small-business people to rely on long-standing relationships with local bank managers to secure a loan, as was the practice in Southern Europe.

"Given the rise in bad loans, it's obvious that lending policies have to change," said Giovanni Sabatini, head of the Italian Banking Association.

The pain is even being felt in parts of the North. At CeFip, a Belgian agency that helps businesses appeal rejected loan applications, requests for help have doubled since November. French companies, which enjoy some of the lowest rates in Europe, are complaining too; according to a survey by France's association of smaller businesses, 59% failed to get funding for at least one project last year. (…)
The French government presented its plan to avoid austerity and let its debt keep rising an extra year as the economy struggles to grow.

In Germany, Chancellor Angela Merkel, who faces general elections in the fall, says euro-zone countries must live within their means and reduce their budget deficits to restore sound public finances.

The chancellor, who let Germany's budget discipline slip in 2009 during the global financial crisis, has also rejected calls from France and the U.S. to help finance growth-boosting measures.

"We don't have the muscle to put in place for the second time a large stimulus program without losing international confidence," Ms. Merkel said on Monday. (…)

The French president said last month he wouldn't accept European countries being put "in a house of correction," when they try to protect themselves from plunging into recession.

In Germany, Ms. Merkel said Wednesday that she would closely watch France's efforts to improve its economy, without being overbearing.

"We will follow these reforms, which France will introduce or which are already in progress, in a very friendly manner," she said.
Jobless rate rises to 6.4 per cent from 6.2 per cent
The unexpectedly large bump in the rate to 6.4 per cent from 6.2 per cent a month earlier comes as the Dutch government encounters increasing political resistance to the austerity policies it has pursued for the past two years, with further cuts needed to meet European budget deficit targets. (…)

The Netherlands' Central Bureau for Statistics said the increase in unemployment had been sharpest among 25 to 45-year-olds. Job losses have been concentrated in domestic industries, including the building trade, which has been hit hard by a falling housing market.

Unemployment claims also rose, particularly in retail and the healthcare sector, which has faced sharp government budget cuts.
Brazil's central bank Wednesday raised its base interest rate for the first time in nearly two years, but economists say the modest increase could be only the beginning of a longer tightening cycle to combat inflation.
Toyota to Make Lexuses in U.S.
Toyota will move part of its production of the Lexus ES, currently built at a plant in Kyushu in southern Japan, the person said.

The ES model isn't sold in Japan, and all of the ones made in Kyushu are shipped to North America, the Middle East and Asia. The person said the shift to the U.S. is aimed at making ES production more cost-effective, as North America is the top destination for the vehicle.

Japanese media reported earlier in the day that Toyota will start producing Lexus-brand cars at its Kentucky plant as early as in 2015.
Nestlé Expects Volatility to Stay
Nestlé said it expects the food market to remain volatile this year, as it reported a worse-than-expected rise in sales on weak consumer confidence in Europe and slowing demand in emerging markets.

In Europe, excluding France, Carrefour reported a 3.5% drop in revenue to €5.46 billion. Sales also dipped in France as the retailer struggled to maintain recent improvements in trends, which had given encouraging signs on the progress of the strategy under new Chief Executive Georges Plassat, who was appointed in spring last year. Domestic first-quarter revenue declined 0.7% on year to €9.29 billion, but the company underlined the resilient performance of its stores under unfavorable weather conditions.
(…) It was understandable that copper inventories would rise back in 2008, when the economy was grinding to a halt, and when copper prices plummeted from above $4/pound in July 2008 to $1.25/pound in December 2008. And shortly after copper bottomed at the end of December 2008, copper inventory levels started coming back down again.

Now we are seeing an even more rapid rise in inventory levels, and it comes on just a small amount of drop in copper prices. The first message to take from this is that copper producers don't think that $3.60 is a fair price.

That's where copper was hovering just as the big run up started in inventory levels. The inventory rise makes a pretty emphatic statement that the producers think they can get a better price by waiting.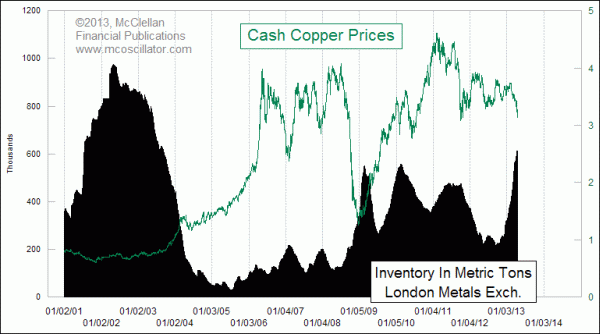 Tom McLellan is too generous with mining companies. They are not as smart as he suggests. Rising inventories are almost always involuntary, a result of unexpected falling demand.
American Dream of Owning Home Lives On, Even for Young
Americans' dream of owning a home is alive and well, evidenced by the fact that most Americans own a home and plan to continue to do so (56%), or don't own a home but plan on buying one in the next 10 years (25%). Eleven percent of Americans don't own a home and have no plans to buy one, and 3% own a home but plan on selling it and renting in the next 10 years.
SENTIMENT WATCH
The bond market isn't the only thing going against stocks these days. Apart from large-cap U.S. stocks, a lot of asset classes are waving red flags (or white flags, as the case may be). Consider this:


– The Russell 2000, one of the best measures of U.S. small-cap stocks, is down about 5% from its mid-March high.

– The STOXX Europe 600, the broadest measure of corporate Europe, is down about 4.5% since its April high; further, apart from Germany and the U.K., European stock markets are having a bad year.

– The iShares MSCI Emerging Markets Index Fund is down about 9.4% this year.

– China's Shanghai Composite is down about 10% from its February high.

– Crude oil prices (West Texas Intermediate) are down about 12% from their 2013 high.

– Copper prices are down about 16% since their early February high.

– Gold prices are down…well, don't even both asking about gold right now.

The markets, it seems, are more focused on the IMF's gloomy assessment of the global economy than the Fed's relatively upbeat assessment of the U.S. economy. We've seen such a burst of central bank intervention this year, and the biggest, the DJIA, the S&P 500, the Nikkei 225, have been so strong, that a lot of this underlying weakness has been papered over. With the Dow and S&P 500 showing their own warning signs, that paper's wearing thin. It's almost see-through at this point. (…)

As of today (4/17), there are 278 stocks in the S&P 500 (55.6% of the index) that currently yield more than the 10-year US Treasury. Additionally, more than a quarter of all stocks in the index (132) yield more than the 30-year US Treasury.

While the large percentage of stocks yielding more than US Treasuries is more a result of historically low interest rates than historically high dividend yields, it is hard to argue that the market is overvalued when earnings multiples are merely inline with historical averages while the 'coupon' is greater than the payout on Treasuries.
And how`s that to boost sentiment?
Monetary policy experts fear side-effects of excessive easing
Lorenzo Bini Smaghi, the former member of the European Central Bank's executive board, captured the mood at the IMF's spring meeting, saying: "We don't fully understand what is happening in advanced economies."

Pipeline or oil? Pick your risk.
Smaller Share of High School Grads Going to College
The college enrollment rate — the share of recent U.S. high-school graduates enrolling in college or a university in the same year — dropped in 2012 to 66.2%, the lowest level since 2006, the Labor Departmentsaid in a report on Wednesday. For 2012 graduates, the rate dropped for both men and women, to 61.3% from 64.6% in 2011, and 71.3% from 72.3%, respectively.

The findings suggest some high-school graduates are becoming more confident about their job prospects after years of hiding out by going to college. When the economy sank into recession between 2007 and 2009, the college enrollment rate rose steadily to a record high of 70.1%. The implosion of America's construction industry, for example, meant fewer jobs for young men looking for work right out of high school. Now it appears some of these young graduates are going on the job market again.

The unusually high number of high-school graduates going to school instead of looking for work has also kept the nation's overall unemployment rate artificially low, since going to school takes you out of the labor force. If more freshly-minted grads now look for jobs and enter the work force, that will push unemployment higher.

There were other gloomy signals in the government's latest report. The share of recent black American high-school graduates enrolling in college dropped precipitously to 58.2% from 67.5% in October 2011 — a much bigger drop than for whites, Asians and Hispanics. Last October—when the Labor Department gathered its data — the unemployment rate for high-school grads who didn't enroll in school was 34.4%, up from 33.6% a year earlier.

Meanwhile, the unemployment rate for people age 16 to 24 without a high school diploma was 28.8% for men — a big jump from 19.7% a year earlier. The "labor-force participation rate" for all Americans who dropped out of high school last year — those who were working or looking for work — tumbled to 47.2% from 55.5%, a sign that those without even high-school diplomas are struggling to find their way.