RECESSION WATCH
  BMO Capital adds to yesterday`s Chicago Fed NAI drop with this disturbing chart:
The unexpected decline in the Chicago Fed National Activity Index (a summary measure of 85 monthly indicators) in August to its lowest level (-0.87) since the recession shows the economy is struggling to achieve normal growth. All major categories, including employment, fell in the month. We still see 1.8% annualized growth in real GDP in Q3.
Dwaine van Vuuren tries to reassure us with a more in-depth analysis (CFNAI Revisions and Recessions), another example of how bloggers often do a better job than many "official economists and strategists:
The latest CFNAI-MA3 reading came in at -0.47 from last week's -0.26 (revised down from -0.21). This downward jump (and downward revision) naturally has everyone on edge. We are not yet concerned with this reading as it is not being corroborated by any leading indicators.

However with the perma-bears now being forced to hang their hats onto the "revisions" coat-hook recently, this reading appears uncomfortably close to the -0.7 recession trigger for those spooked by the perma-bears' gloomy predictions. We looked at the real-time data published by the Chicago Fed since it has been available from 2002, and compared the real-time published readings to subsequent revisions on/around the last two recessions to see if we have anything to be concerned about. (…)

The lack of any leading indicator confirmation on the weakness of the CFNAI-MA3 (which is effectively a co-incident indicator) coupled with evidence that the last two recessions resulted in UPWARD revisions as opposed to downward ones prior to the recession trigger means we should not be hitting any panic buttons just yet.
Doug Short expands on the "-0.7 recession trigger":
The next chart highlights the -0.7 level. The Chicago Fed explains:

When the CFNAI-MA3 value moves below -0.70 following a period of economic expansion, there is an increasing likelihood that a recession has begun. Conversely, when the CFNAI-MA3 value moves above -0.70 following a period of economic contraction, there is an increasing likelihood that a recession has ended.

With the exception of the 1973-75 recession, the -0.7 level has coincided fairly closely with recession boundaries. The 1973-75 event was perhaps an outlier because of the rapid rise of inflation following the 1973 Oil Embargo. Otherwise a cross below the -0.7 level has synchronized within a month or two of a recession start. A cross above the level has lagged recession ends by 2-4 months.
Nobody should rest on the "lack of any leading indicator confirmation" as Doug Short illustrates:
Hmmm…
  Texas-Area Manufacturing Still Contracting
Business activity among Texas-area manufacturers remains slightly contractionary this month, according to a report released Monday by the Federal Reserve Bank of Dallas.

The bank said its general business activity index rose to -0.9 in September from -1.6 in August. In July, the index plunged to -13.2 from 5.8 in June.

The new orders index rose to 5.3 in September from 0.2 in August while the growth rate of orders improved to -0.4 from -8.7 last month. The production index increased to 10.0 from 6.4 in August, while shipments rose to 4.5 from -2.3.

The employment index, however, fell to 5.9, the lowest reading in more than a year, from 14.2 in August. The hours worked index rose to 2.8 from -0.9.
CHINESE LEADERSHIP LOOKS MORE AND MORE BEHIND THE CURVE
The more reliable stats from China continue to point to a more severe slowdown than what the Chinese authorities, and even financial markets, are expecting.
Chinese ports, the world's busiest, handled a total cargo volume of 792 million metric tons in August, up 2 percent from the same period last year – the lowest increase since the beginning of this year, according to the Ministry of Transport.

In the meantime, Chinese ports' container throughput reached 15.11 million twenty-foot equivalent units in August, up 3.9 percent from the same period last year, official data showed. This is much slower than the 7.9 percent year-on-year container-throughput growth rate averaged over the first seven months of this year, according to the ministry.
A.P. Moller-Maersk, operator of the world's largest container shipping company by revenue, will reduce transport capacity
A.P. Moller-Maersk A/S, operator of the world's largest container shipping company by revenue, will reduce transport capacity and raise shipping rates in the face of declining cargo volumes, as sluggish global trade continues to weigh on the industry. (…)

The plan comes after Maersk Line at the beginning of the year cut 9% of capacity on its Asia-Europe routes to support higher rates, mainly through slow-steaming. But in recent months, rates have fallen because of weaker-than-expected global trade, declining volumes and mounting price competition. Rates on routes between Asia and Europe—which account for 40% of the unit's revenue—have fallen 30% in the past few months.
Among 965 listed companies that have disclosed performance predictions for the third quarter, 489 estimated losses or reduced profits. Many companies said they have seen no significant improvement from the second quarter.
CENTRAL BANKS AND MARKET DISTORTIONS
U.S. interest rates, short and long, are now essentially set by the Fed. Same in Europe with the ECB. But the SNB (and other smaller central banks) is also impacting markets.
S&P highlights fall in French and German borrowing costs
French and German borrowing costs have fallen sharply this year largely because of bond buying by Switzerland's central bank aimed at weakening the Swiss franc, according to a report released on Tuesday.

Standard & Poor's, the rating agency, said bond markets have been distorted by an estimated €80bn in purchases of "core" eurozone countries' debt by the Swiss National Bank in the first seven months of 2012. (…)

Bankers believe the SNB switched to buying French bonds because earlier purchases of German bonds had backfired. As the SNB bought Bunds, the spread between eurozone "peripheral" and German debt widened, scaring other investors and creating more haven demand for the Swiss franc. That caught the SNB in a vicious cycle that forced it to buy more euros to weaken the franc, according to a banker familiar with the situation. (…)

The SNB has also been responsible for distortions in the global currency market. As the central bank has bought euros to weaken the franc, it has tried to recycle those euros into other, safer currencies. That has created buying pressure on currencies of countries that still have triple-A rated debt, including the Australian dollar and the Swedish krona, which were widely believed to have strengthened over the summer because of demand from the SNB.
  SAVING EUROPE, SAVING GERMANY
German lenders have the highest exposure in Europe to Spain, at $139.9 billion, of which $45.9 billion alone is exposure to banks, according to the Bank for International Settlements. (…)

Concerns that Spanish assets would be severely impaired if the country's crisis worsens contributed to Moody's Investors Service's recent decision to change its outlook on Germany to "negative" from "stable." Moody's, in its analysis, highlighted the vulnerability of Germany's banking sector to a worsening euro crisis and warned that those risks could cost the country its prized triple-A credit rating.

"The German banks' sizable exposures to the most stressed euro-area countries, particularly to Italy and Spain, together with their limited loss-absorption capacity and structurally weak earnings, make them vulnerable to a further deepening of the crisis," Moody's wrote. (WSJ)
South Korea Delays Fiscal Balance  The South Korean government said that it would continue to run a fiscal deficit next year to stimulate Asia's fourth-largest economy, pushing out the target of a balanced budget by a year.
EARNINGS WATCH
Caterpillar Cuts 2015 Outlook as Mining Spending Falls
Caterpillar said profit will be $12 to $18 a share, compared with a previous projection of $15 to $20. While a global recession remains possible, Caterpillar is forecasting moderate and "anemic" growth through 2015, Chairman and Chief Executive Officer Doug Oberhelman said yesterday in a presentation to analysts at the MINExpo industry conference in Las Vegas. Construction activity in emerging markets will probably show modest improvements, he said. (…)

Global mining capital expenditures will drop 14 percent through 2014 from a peak of $136 billion this year, JPMorgan Chase & Co. said in a Sept. 21 report.
HOUSING BEARS BACK HIBERNATING IN THE BASEMENT
You can bet that every real estate agent will be using this survey in coming months.
The September 2012 edition of the Zillow Home Price Expectation Survey shows that professional forecasters expect home prices to rise by an average of 2.3 percent during 2012. The survey was compiled from 113 responses by a diverse group of economists, real estate experts and investment and market strategists. Overall, this reflects quite a change in attitude toward home prices this year given that three months ago (for the June survey), economists thought home prices were going to fall by 0.4 percent.

Figure 1 shows the forecasted, cumulative home price changes by quartile among panelists. Even the bottom quartile shows that opinions have turned much more favorable, with an appreciation of 0.3 percent forecasted for 2012, while the top quartile predicts an appreciation of 4.4 percent by year's end.
You know why one-armed persons cannot work as economists?
On the one hand…, on the other hand…
Plus ça change…
GOOD READS: The Good, the Bad and the Ugly on U.S. employment Growth
The Boston Consulting Group updated its major study of last year (see THE AMERICAN MANUFACTURING REVIVAL) because it is already proving too pessimistic. The 2-3 million additional jobs originally expected are now seen reaching 2.5-5.0 million jobs. The increased competitiveness is no doubt one reason for the resilient U.S. economy in the face of the major global weakness.
An expected surge in exports could help create up to five million U.S. jobs by 2020, according to a report released Friday by the Boston Consulting Group.

U.S.-born exports are expected to surge, with domestic manufacturers standing to capture 2% to 7% of Western European and Japanese exports due to lower labor and energy costs, which would translate to as much as $90 billion in additional U.S. exports, BCG research finds. (…)

The reshoring moves come as average manufacturing costs continue to fall in the U.S. BCG estimates that they will be 8% lower than in the U.K. in 2015, 15% lower than in both Germany and France, 21% lower than in Japan and 22% lower than in Italy.

China will still be about 7% cheaper than the U.S. but that doesn't include the high cost to ship bulk items around the world.
The recent spectacular decline in U.S. natural gas prices is another major factor driving down relative U.S. manufacturing costs.
(…) This myth—that you can just give money to the middle class and good things happen—is widely shared and is at the basis of a lot of government policy. And it is why the recovery is stuck between lack and luster.

(…)the administration's economic team during the financial crisis—Lawrence Summers, Tim Geithner, Jason Furman—"was carrying around this list of multipliers" from Mark Zandi of Moody's Analytics. A dollar spent to cut corporate taxes would grow the economy 30 cents; make the Bush tax cuts permanent, 29 cents; extend unemployment benefits, $1.64; food stamps, $1.73. "And food stamps was always at the top. That had the largest multiplier." This is economic malpractice.

Food-stamps recipients are up 70% in four years, to 46.7 million. But, surprise, we haven't seen that "virtuous cycle." Jobs build the middle class, not handouts or pay diktats. (…)

Yes, the wealthy, most of whom got rich by risking capital and delivering something productive to the economy, tend to save more. But they don't shove it under the mattress, they invest it in the productive fabric of the economy. The president's rhetoric harps on the notion that millionaires and billionaires don't "need" the money from a tax cut. But think of it this way: They, like Henry Ford, have proven that they can invest the money productively—better than any government program—whether directly into companies or into stocks, private equity or venture capital that create long lasting jobs and expand the middle class. (…)

Perversely, class warfare hurts the group it is alleged to help. For every dollar of stimulus or government spending paid for by the half of the population that pays taxes, you take away a dollar that might have been invested in creating higher-paying jobs. That's just dumb. Misallocating capital is a formula—a negative multiplier—for stagnation, not growth.
John Mauldin`s always excellent Thoughts from the Frontline recently focused on the hurdles faced by American executives in managing their business:
In 2010, the number of Federal Register pages devoted to proposed new rules broke its previous all-time record for the second consecutive year. It's up by 25% compared to 2008. These regulations alone will impose large costs and create heightened uncertainty for business and especially small business.

A recent survey by the National Federation of Independent Business shows that small-business concern over government regulation has risen to match the level of concern about taxes and poor sales.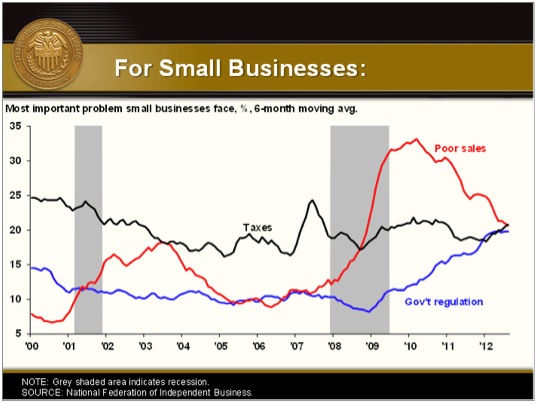 (…)  Policy uncertainty is another beast altogether. Two recent studies offer hard evidence to back the intuition that confusion about what Uncle Sam is going to do has dampened the recovery, leading to subpar job creation. Stanford University economists Scott Baker and Nicholas Bloom joined the University of Chicago's Steven Davis in using a variety of measures, such as news stories and the number of federal tax code provisions set to expire, to construct an index of policy uncertainty levels. The results show entrepreneurs have more doubts today about where policy is headed than they did just a few years ago.

The economists estimated the rise in uncertainty from 2006 to 2011 resulted in a 16 percent plummet in private-sector investment and an employment drop of 2.3 million jobs. (…)
Mauldin then gets into the best part of his piece (QE Infinity: Unintended Consequences, well worth reading in its entirety). John quotes Dallas Fed President Richard Fisher:
(…) Ironically, and sadly, Congress is doing nothing to incent job creators to use the copious liquidity the Federal Reserve has provided. Indeed, it is doing everything to discourage job creation.

(…) Then, having vetted all points of view, we (the FOMC members) make a decision and act. If only the fiscal authorities could do the same! Instead, they fight, bicker and do nothing but sail about aimlessly, debauching the nation's income statement and balance sheet with spending programs they never figure out how to finance. (…)

Just recently, in a hearing before the Senate, your senator and my Harvard classmate, Chuck Schumer, told Chairman Bernanke, "You are the only game in town." I thought the chairman showed admirable restraint in his response. I would have immediately answered, "No, senator, you and your colleagues are the only game in town. For you and your colleagues, Democrat and Republican alike, have encumbered our nation with debt, sold our children down the river and sorely failed our nation. Sober up. Get your act together. Illegitimum non carborundum; get on with it. Sacrifice your political ambition for the good of our country – for the good of our children and grandchildren. For unless you do so, all the monetary policy accommodation the Federal Reserve can muster will be for naught."
Fisher has been a stubborn inflation hawk in recent years but he earns many kudos with these comments.
BTW: Little Appetite in U.S. for More Gov't Regulation of Business

Americans' views that there is too much government regulation in fact began to rise in 2009, perhaps in response to the new Obama administration and new business regulation policies such as Dodd-Frank, reaching an all-time high of 50% in 2011 before settling down slightly this year to 47%.

There has been little change since 2003 in the percentage of Americans saying there is too little regulation of business. The changes that have occurred in recent years have involved shifts between the percentages choosing the "too much" and "about right" alternatives.
The great, and widening, divide: