PAPANDREOU IS PAST: Defections Deepen Greek Debt Crisis The prime minister called an emergency cabinet meeting after defections by his party's lawmakers over his plan for a euro referendum erased his majority in Parliament. The country's finance minister also came out against the plan. That means that Mr. Papandreou's already slender governing majority has now been slashed to 150 seats in Greece's 300-member parliament—effectively making it impossible for him to govern.
Several other socialist lawmakers called for the creation of a unity government that will secure approval of Greece's latest loan agreement and lead the country to new elections.
The officials said that Mr. Samaras was prepared to reconsider his reluctance to participate in a government of national unity if Mr. Papandreou stepped down as prime minister and a snap election date was set immediately.
"We are prepared to discuss an interim solution if he [Papandreou] goes," one of the people said.

A senior Pasok deputy said he believed a Mr. Papandreou resignation and the formation of a national unity government was the most prominent scenario.
BNP Paribas said third-quarter net profit slumped a worse-than-expected 72% after it slashed its sovereign debt exposure in Italy and took a hefty write-down on its Greek debt.
ITALY WATCH: From FT Alphaville: A chart from the Markit ADACI report, with an IP series. Expectations for October were apparently 47.1, so the final figure of 43.3 is shocking.
Concerning jobs:

Employment within the Italian manufacturing sector fell at an accelerated pace in October, decreasing at the sharpest rate since February 2010. Firms reporting lower staff numbers compared with the previous month often indicated leaving vacated positions unfilled. In addition, firms also made redundancies during October.
Italy's fundamental problems can be summarized as follows: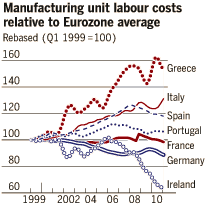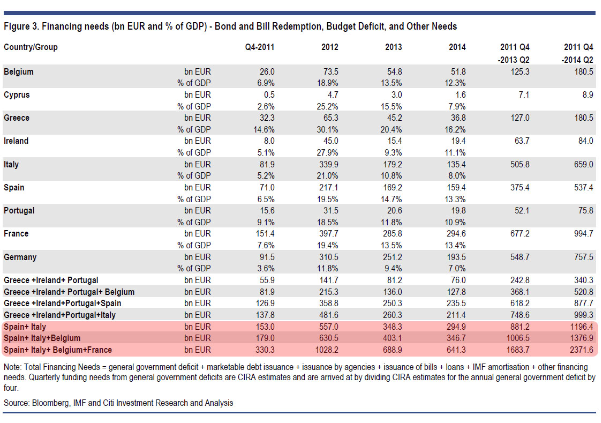 GREECE WATCH: The MoM drop in Greece's PMI was also horrendous.

[The PMI] read 40.5 in October, down from 43.2 in September, signalling the fourth sharpest deterioration in the operating conditions of Greek manufacturing firms in the survey's twelve-and-a-half year history. (…)

New orders received by Greek manufacturing firms continued to decrease during October as panellists indicated a further weakening in domestic demand. New business contracted at the third fastest rate in the survey history. (…)
Although the rate of increase in unemployment eased month-on-month, it remained marked, and extended the current period of falling head counts to 42 months.
US ECONOMY
CATCH ME IF YOU CAN: The Fed lowers its growth outlook for 2011 to 1.6%-1.7%, 2.5%-2.9% in 2012, 3%-3.5% in 2013, and 3%-3.9% in 2014. It sees unemployment at 9%-9.1% this year, 8.5%-8.7% in 2012, 7.8%-8.2% in 2013, 6.8%-7.7% in 2014. Personal consumption expenditure inflation is forecast at 2.7%-2.9% this year, 1.4%-2% next year, 1.5%-2% in 2013, 1.5%-2% in 2014. Also:
there are "significant downside risks to the economic outlook."
IRA ON MF GLOBAL:

In this issue of The Institutional Risk Analyst, we ignore the collapse of MF Global and the latest machinations of former Goldman Sachs ("GS") partner Jon Corzine. Before leading MF Global to its doom, Corzine presided over fiscal chaos as governor of New Jersey. So the masters of the universe are human after all. When will people learn that the Boys from Broad Street are not the best bankers in the world? They just have the brazen hutzpah to ask for the big money in return for access to "the game."
New York — The key point to be made about MF Global is that a primary dealer in US government bonds failed with the Obama Administration and the US Treasury apparently clueless. Only on Friday when bankruptcy counsel had been retained did the Fed of New York pull dealer lines from MF Global. From what we hear from the pits, MF Global should have been pulled as a primary dealer weeks ago.
As you consider this latest evidence of incompetence at the FRBNY, read Binyamin Applebaum in the NYT, "Report Says New York Fed Didn't Cut Deals on A.I.G." Is this the smoking gun of duplicity and corruption between the FRBNY and GS that sinks Secretary Timothy Geithner? Specifically, did the payments to GS and other larger dealer counterparts of AIG reflect corruption by Geithner, perhaps an accommodation to be rewarded in the future? Nobody knows about the time value of money better than the partners of GS. Just ask former FRBNY President Gerald Corrigan, who was rewarded with a sinecure at GS after being hastily ejected from the FRBNY in 1993.