The S&P 500 Index hit its 200 day m.a. of 1262 on June 23rd and pin-balled right back to 1351, a remarkable 7.0% "short covering rally with legs" as David Rosenberg described it. Whatever it was, it coincided with an apparent lull in the Greek drama and lower oil prices induced by SPR sales.
Based on the Rule of 20, the Index was 12% undervalued on June 23rd. It is now only 5% undervalued.
Fair value of 1426 is based on trailing 12 months operating EPS of $85.78 and CPI inflation of 3.6% (May 2011).
Undervaluation of 5% is not appealing in the current context. Both valuation components (EPS and inflation) are at risk currently:
Earnings growth has flattened but analysts continue to forecast strong growth.
Inflation has accelerated very sharply from 1% in February to 3.6% in May.
US economic momentum has slowed considerably. Same in Europe.
China's fight against inflation has dampened economic growth.
EARNINGS
Quarterly EPS rose $0.66 (3.2%) QoQ in Q3/10, $0.33 (1.7%) in Q4 and $0.67 (3.0%) in Q1/11. Analysts are currently estimating gains of $1.25 (5.5%) in both Q2 and Q3 and $1.17 (4.7%) in Q4. In all, EPS are forecast to jump 16.2% during the next 9 months, twice as fast as for the last 9 months. Why the acceleration?
World economic growth has clearly slowed during Q2:
Global PMI has declined for 4 consecutive months since February and is now below its 2010 low as this chart from Gavyn Davies shows.
Consensus growth estimates for both the US and World have declined sharply in Q2.
FedEx US package shipments growth has turned negative.
As RBC Capital Markets explains, current estimates for global GDP point to 7%
top-line growth for S&P 500 companies, which is below the 10% growth expected by analysts.
Margins have skyrocketed in recent quarters thanks to productivity gains which have recently peaked. Q1 2011 showed the slowest productivity gain YoY since Q1 2009 and unit labor costs rose 0.9%, the first YoY gain in over 2 years.
Estimate revisions are going opposite economic surprises…
It is generally better to value stocks on trailing earnings but it sure looks safer not to use forecast earnings at this present time (on that see Run, Don't Walk, Away From Forward P/Es by JJ Abodeely). PEs on forward earnings look quite reasonable but surprises and/or general guidance may not be pleasant when Q2 earnings season begins July 11.
According to Zacks Research, 26 S&P 500 companies have released Q2 results: the earnings surprise ratio was a strong 3.60 with a median surprise of 5.6%. However, adding non-S&P 500 companies, of the 48 companies that reported between June 28 and July 6, 22 had negative surprises.
INFLATION
Inflation is a key driver for equity valuation as demonstrated by the Rule of 20. Even though Bernanke & Co. keep saying that the current inflation bout is only "transitory", these charts from the Cleveland Fed are not encouraging.
Lower oil prices will help in coming months…
… but many other factors are at work:
TEMPORARY SLOWDOWN?
Bernanke & Co. as well as a large consensus or economists are qualifying the current slowdown as temporary since it is due to the Japan tragedies and the spike in oil prices, both of which now appear to be behind us (see THE ECONOMIC AFTERLIFE). If so, we should soon begin to see positive economic data from all over the world.
Yet, OECD leading indicators have nosedived, even before Japan tsunami.
Central banks are tightening almost everywhere there is strong economic growth.
Most rebound forecasts assume that the US consumer will carry the economy. It has not been the case since 2009. Why now?
Here are a number of charts to help you assess the outlook for the US consumer:
Payroll is barely rising. Private employment is holding steady at an abysmal level while state and local government employment keeps declining. Construction related hiring is flat at best, not only because of residential housing, dead for another year at least, but also because commercial construction is fighting serious overcapacity.
Slow employment growth coupled with feeble wage gains can only result in weak income growth, no longer supplemented by government stimulus programs and tax cuts.
Add rising inflation and you get real PDI barely rising YoY.
Consumers are still in a deleveraging mode although they have maintained consumption through lower net savings.
For most of the past 16 months, personal expenditures have been growing faster than personal disposable income. Specifically, between December 2009 and April 2011, PDI has increased 4.7% while PCE has 5.9%. As a result, the savings rate is now 4.9%, its lowest level since October 2008. Fair to say, the US consumer has been as supportive as he possibly could. Can we reasonably expect a repeat? Especially with house prices double dipping.
Given the slow employment trends, limited wage gains and absent any meaningful stimulus measures, the only way consumer spending can contribute positively to the economy is if oil prices decline markedly, freeing purchasing power for higher discretionary spending, unless consumers decide to save more…
Governments throughout the world understand this. This is why the IEA did not wait for Saudi Arabia to increase its production as it said it would after OPEC's failed June meeting (see OIL: SAUDI ARABIA'S PR COUP). In effect, the SPR, used only twice in history and for true emergencies (Iraq's invasion of Kuwait in 1990 and after hurricanes Katrina and Rita in 2005), has seemingly become an economic tool for Western governments in desperate need to boost consumer spending without using exhausted fiscal stimulus measures.
The announcement to release 60 million barrels into the global market came on June 23. On June 30, the US DOE auction of 30.2 million barrels of light sweet crude oil was "substantially oversubscribed" at $107.20/barrel. Bidders were obviously not too worried about a price collapse. The Economist:
If the intention was to reduce prices in the medium- or long-term, it has failed. The price of Brent crude fell $5 on the announcement but has rallied since. The price of West Texas Intermediate (mainly produced in America) is trading higher than before the IEA announcement.
Moreover, oil future curves have risen since the IEA announcement!
Brent crude is now $116 while WTI is trading at $99 underscoring the continued tightness in the supply/demand fundamentals.
CHINA TO THE RESCUE?
In mid-2010, China's economy was accelerating. It is now flirting with danger.
June's manufacturing survey indicated a further moderation in overall new business growth. The latest increase in new orders was only marginal, and the slowest in the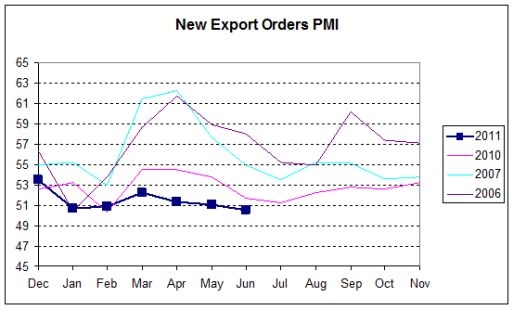 current eleven-month period of growth. Moreover, new export business decreased for the second month running, and at the most marked rate since March 2009. Those survey respondents that recorded a decline in new business from abroad attributed this to subdued global demand. China is thus hurting from weakening domestic demand as the government fights inflation and from weak export demand as both Europe and the US are slowing down.
QE3?
In mid-2010, the Fed launched QE2, openly admitting that one of the main goals was to jump start risk assets, mainly equities, to create a wealth effect that would, in turn, translate into higher consumer spending. Equity investors bought stocks aggressively, confident that the Fed was embarking on an all-out stimulation program that could only result in rising equity prices. The Bernanke put was on.
The S&P 500 went from 1043 on August 26, 2010 to 1345 on February 22, 2011, a 29% gain in 6 months.
Yet, the US economy is no better off. In fact, in some aspects, especially inflation, it is worse off.
Yet, the world economy is no better off. As Gavyn Davies' chart above shows, the global manufacturing PMI index is currently lower than its mid 2010 level.
Yet, most government finances are worse off, seriously handicapping their ability to provide additional stimulus to their moribund economies.
Can we seriously expect that QE3, whatever it may be, will trigger another race towards risk assets?
When governments resort to selling their oil reserves to sustain their economy, things only look desperate.
When QE2 was launched, US equities were 24% undervalued (US EQUITIES ARE CLEARLY UNDERVALUED), inflation was 1.1% and stable and EPS were skyrocketing. Currently, US equities are 6% undervalued, inflation is 3.6% and rising and EPS are flattening out at record high margin levels just as input and labor costs are pressuring profitability while overall demand is waning.
This time around, it sure seems safer not to jump start the earnings season, even though seasonality is positive for July. But only for July…