Weekly US chain store sales rose 0.1% last week. If this is indeed a rise, it would be the first consecutive increase in weekly sales since mid July. The 4-week moving average did turn up, possibly finding support at the 500 level. Nonetheless, the 4-week m.a. is up only 2.1% YoY. At best a relief that sales are not tumbling anymore.
That said, Consumer Metrics Institute's daily retail index shows no momentum building at month end.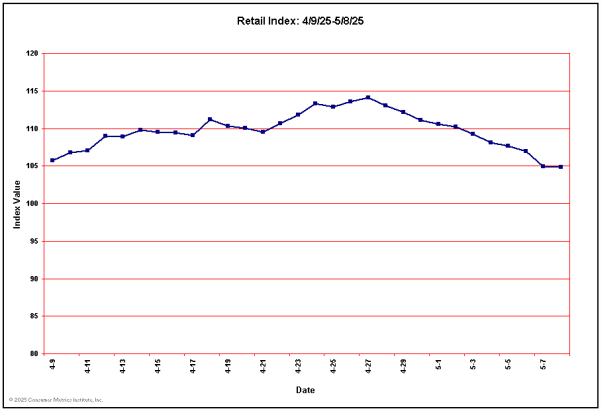 As well, Gallup's spending polls show a weakening trend by month-end.
 (Gallup's consumer spending measure tracks the average dollar amount Americans report spending or charging on a daily basis, not counting the purchase of a home, motor vehicle, or normal household bills. Respondents are asked to reflect on the day prior to being surveyed and results are presented here in both a 3-day and 14-day rolling average. Results are based on telephone interviews with approximately 1,500 national adults; Margin of error is ±3 percentage points.)