U.S. sales of cars and light trucks rose 13.4% in October from a year ago, bringing some cheer to an industry that has been frustrated by the slow economic recovery.

Ford Motor Co., Honda Motor Co. and Nissan Motor Co. each reported sales increases of more than 15% while Chrysler Group LLC said its sales climbed 37% from a particularly weak month in 2009.

All told, U.S. sales of light vehicles totaled 950,165, up from the year-ago figure of 838,133, according to Autodata Corp. More importantly, the seasonally adjusted, annualized selling pace in the month came to 12.26 million vehicles, Autodata said, the highest level since the government's "cash for clunkers" rebates created a spike in new-car buying in August 2009.

A year ago, the seasonally adjusted, annualized selling pace was 11.43 million vehicles. In September, the rate reached 11.76 million. During the boom times earlier this decade sales hit 16 million a year.(…)

Toyota Motor Corp. was one of the few car makers to see a decline in U.S. sales. Its total dropped 4.4% to 145,474 vehicles as sales of several popular cars, including the Camry, Prius and Corolla, fell 10% or more compared with October 2009. Toyota saw its reputation dinged this year by safety-related recalls.

General Motors Co. managed only a 4.2% rise in sales of its light vehicles, in part because it cut back on sales to fleet customers like rental-car firms. Such sales often are less profitable than sales to consumers.(…)

For the month, GM had U.S. market share of 19.3%. That's up from 18% in September and 18.6% in August, but down from the year-ago figure of 21%. GM's market share is being closely watched as it heads toward an initial public offering of stock later this month.(…)

Full WSJ article (chart from the NYT)
Consumer Metrics Institute's tracking of weekly auto sales point to stable sales at the higher level in October.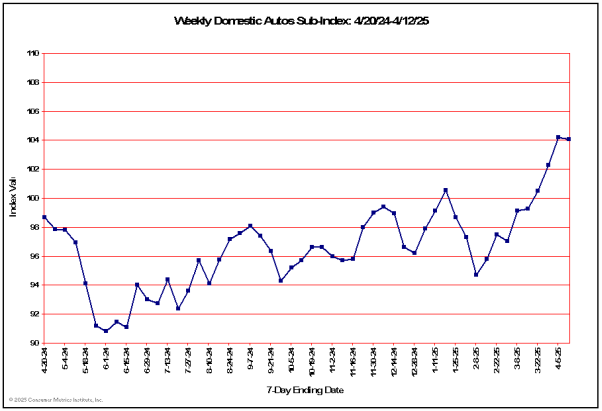 Maybe we have a trend: